Linda had foot surgery to remove the screws that were put in a year ago, so our oldest resident, Esther, is pushing our manager, Linda.
Unfortunately, Linda has decided she needs to retire for health reasons.  We're really going to miss her!  My sister, Ronda Rosamond, who lives here on the farm, is taking over as the manager.
These are the 9 residents we have as this year comes to an end.  In order left to right in the back row they are Jean Hagemeier, Betty Lawrence, Frank Porter, and Bea Jecmenek.  In front – Doris Crawford, Evelyn Kuck, Esther Potts, Teresa Goff and Frances McPherson.
A couple of birthdays recently, Lounell and Tamara.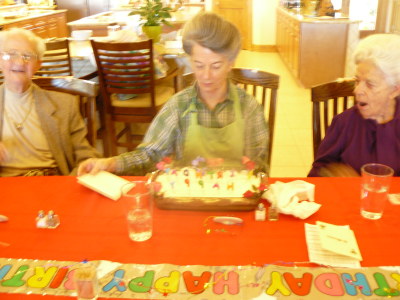 Lots of visitors – here are a few:
Sometimes we work, cleaning pecans, sometimes we have fun – Frank being Frank!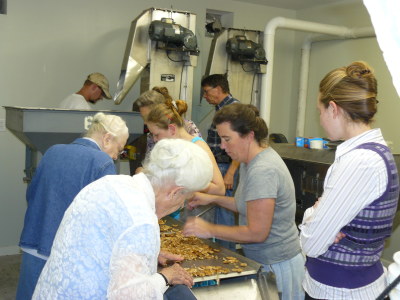 We can now use our cabin, which is on the west side of the farm, hidden in the woods by a small pond.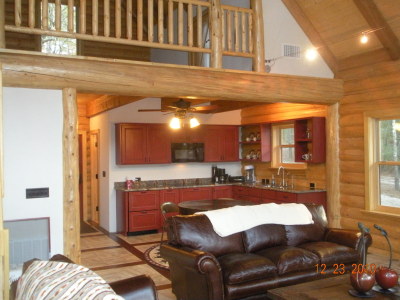 Our daughter and husband, Karla and Brendan Furrow, and Kathy and I had our anniversary the same day in December.  Then we went to Minneapolis to visit Kathy's family.  We're glad for the warm weather in Texas!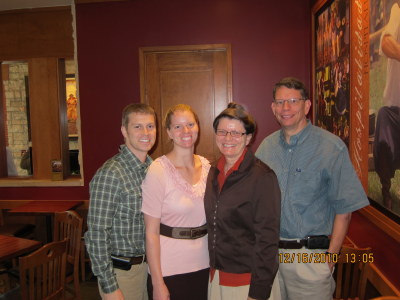 Ken