June has been a difficult month at PG.  Jeannette fell and broke her femur.  They operated and nailed the bone back together.  She's now in a rehab facility, recovering slowly.  If she isn't significantly better by the end of the week she'll be transferred to the Park Manor nursing home where Roger Cleveland is.  She'll still receive PT and OT… and hopefully return to PG.  June Kyger came to help her from Indiana.  Here she is with June in the rehab facility, and earlier in the month (before her fall) with Karen when Karen was leaving for Columbia.
Betty Lawrence had a series of health problems, the most serious of which was a stroke.  Today they decided to put her on hospice care at PG, comfort measures only, so she was transferred from the hospital this evening.  Joyce has been with her in the hospital, and will continue to be with her at PG.
We had lots of visitors in June.  The first group below includes Geoff Murray from New Zealand, the McSpadden family, the Colsons and Josh Maki.  The second includes Sara Kujath, her kids and her sister Susan with Doris and Naomi.  The third is Esther with her nephew Henry and Phyllis Potts.  The last are the Valdez brothers and their wives.
Esther and Jennifer had birthdays in June.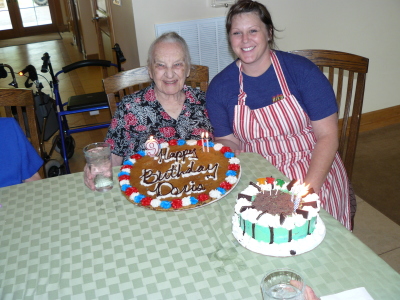 Sorry, this isn't about PG… but Kathy's brother, Rick Johnson, 61, died of cancer in Minneapolis on Saturday.  The funeral was today, so I'm writing this from his home in Minneapolis.  The first picture below is of the family in 2011.  Rick is the second from the left.  Larry, the one on the left, died of cancer in 2013.  The second picture is of the workers at the funeral today.
So, lots of sadness in June, but also much to be thankful for …
Ken