June has had good news and bad news.
Good news – no covid virus at PG!  We're fortunate to be somewhat isolated on this farm.  But those of us who work here often go to town for shopping, etc.   We take residents to town, mainly for doctor appointments.  We try to be very careful… but the virus cases are spiking significantly in Texas.  We are fortunate to have 2 small fellowship meetings here on the farm (at our place and at Hoffman's), with social distancing and some masks (the residents choose not to wear masks).  We also have our morning bible studies at the residence… the best part of the day for us and them.
Bad news – Clinton Goff was taken to the hospital with pneumonia.  They were able to help with IV antibiotics, but they sent him back to the nursing home he's been in, on hospice.  The aspirated pneumonia is due to dementia, so they expect it to continue.  I was able to see him last Thursday in the hospital, but after that visitors were not allowed due to the spike in virus… hospitals are full.  That was the first time I'd seen him since March because no visitors are allowed at the nursing home.  He called me Jack, as usual, he has me confused with my dad.  But he did seem to remember some workers.  His speech was difficult to understand.
More bad news – Sunday dad had a 1 hour seizure.  It seems the seizure caused a stroke or TIA.  He's recovering in the hospital ICU.  Again, no visitors.  I was able to talk to him by phone today and he seemed fairly clear.  His left side was affected but that seems to have improved already.  Sunday evening we were discussing funeral plans, and now it seems he may return to the assisted living place he's been at in Conroe.  He started using a wheelchair most of the time in June because of frequent falls.
Good news – my sister Ronda and husband Mike Rosamond visited from Arkansas.  We aren't supposed to have visitors at PG, but we make a few exceptions. They were able to visit with dad (before his seizure) through a window (talking by cell phone).  Dad had been to the hospital because of a fall, so was wearing a mask.  Here's dad through the window and Ronda with Della at the residence.
Good and bad news – Nyana Thompson (19) (who has been living and working in the residence since March after returning with Fern) went back to North Carolina for a home visit and to bring back her car.  Her dad, Dan Thompson drove back with her.  Then she was asked to return to South Carolina to help Dorthy Steljes until convention time.  The following pictures are of her with her dad, then of her telling the residents of her call to the work (at 14) and her need to return to South Carolina to help, and then with Alice and Elton as she was leaving.  Bad news for us here but we are so glad she is willing and able to go!
Good news – David Cleveland visited his dad Elton for a few days.  Shawn Bass has been working at PG for a few months.  Shawn's wife to be, Anita, has agreed to work at PG.  Shawn and Anita will be living in the cabin.
Good and bad news – our 6 grandchildren were able to wave to the residents through the windows of the residence.  We don't let them enter because of the virus restrictions.  Children are such an encouragement to old folks, even from a distance.  The second picture shows our dog Vince with 4 of the grandchildren.  The bad news is that 2 weeks ago Vince disappeared.  He was a wonderful friend to the residents.  We all miss him.
Good news – lots of pecans and lots of deer.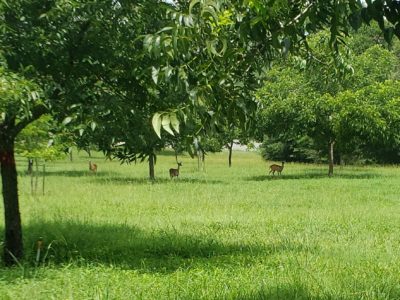 Thanks,
Ken