The residents at PG are doing well.  There's always something happening… Esther broke her hearing aid, Mary Jane lost her glasses, Bea can't figure out how to turn off her new electric toothbrush, Teresa's blood is too thin so she has to have it tested every week… but overall, they're doing well.
Dominique and Mireille Mille completed the purchase of 11 acres of forest on the back side of PG, along with an easement through PG to access their land.  Jeff Chenault put a driveway in for them.  They have a builder lined up to start building a house on their property in September.   Here's a picture of Jeff, Ken, Kathy, Mireille and Dominique at the entry into their property, and the driveway that Jeff was building between the pecan orchard and the power lines.
Our addresses are changing slightly.  With several homes and businesses entering through the same gate, we were required to assign letters to them so if there is a 911 call the emergency vehicles would know where to go.  The addresses are all 929 State Highway 150, even though the Mille property is no longer part of PG.  The only place without a letter is the residence.  Now they are::
929  – Sr. Residence
929A – bunk house
929B – Hoffman home
929C – Valdez home
929D – Athena Engineering
929E – Cormorant Engineering
929F – Ken and Kathy Newman home – under construction
929G – Cabin – Dominique and Mireille are renting the cabin until their house is built.
929H – Mille home – to be built
My parents place has its own driveway (even though it is part of the PG property) so it has it's own number:
987 – Jack and Leona Newman home
Sorry for all that detail… hopefully our addresses will stay the same for a long time now!
We added another part-time staff member, Macy,  in July, because Melissa continues to have poor health.  The picture below shows 4 of the staff, Jennifer, Andrea, Macy and Salena.  The second picture is of Bryce and Emma Mille (kids of Pierre and Crystal) playing with the twins, Maren and Maven.
We didn't get pictures of the other visitors in July, which included Heidi Angus, Scott, Brenda and Oliver Lee, Ed and Linda Lloyd and Trevor and Heather Chenault.
In July we had the first cutting of hay, and the figs were ripe.   Doris proved she could eat a dozen fresh figs in a few minutes!  They didn't last long.
We found an interesting and scary looking caterpillar!
Kathy and I are in France with Kathy's cousin and husband, Marcia and Jack Cahill.  Kenny and Salena will join us in time for the convention which starts Saturday.  These were the folks in the bible study at Roudiy's yesterday… Roudiys, Barnes, Cahills and Newmans.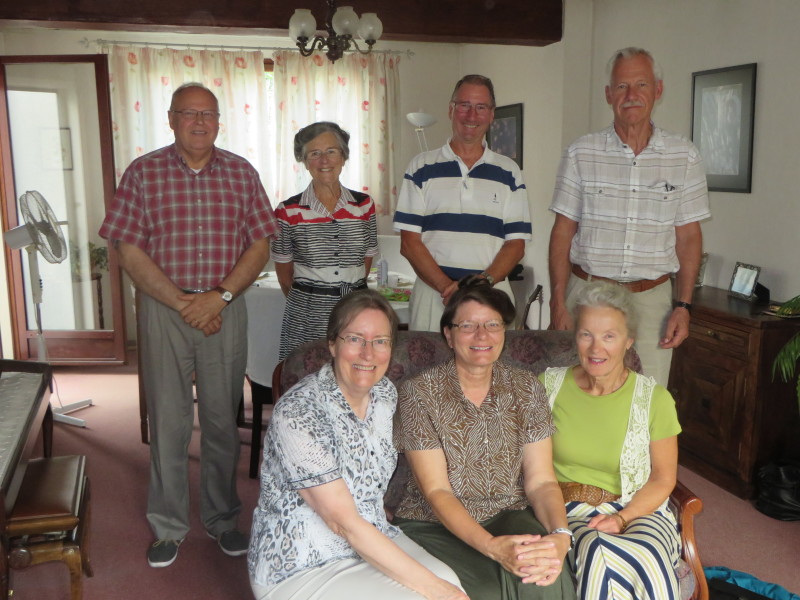 Ken