It's hard to believe that November is over already!  At the beginning of November we realized we had a significant problem with our beaver(s) again.  The fountain in the lake stopped working.  When we retrieved it we found that the beavers had cut several of the electric cables and had chewed holes in the floats!  We used a motion sensitive camera to get a picture of what we believe to be the major culprit.  Here he is, along with a hole in a float that he made.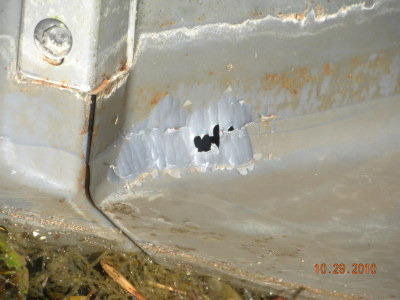 We've tried hunting him, trapping him, shooting into his house…. so far he's outwitted us.  We try to save face by saying we must have gotten that one, and another one has moved in!  But we don't have any proof.  At the end of the month he'd repaired the damage we'd done to his house.  We encased the fountain in a wire mesh and now have it up and running again.
Of course deer season opened in November.  Mike got several…. here he is with an 8 point buck.  Fishing was still good at Thanksgiving time – Doris caught a bunch, held here by Hailee.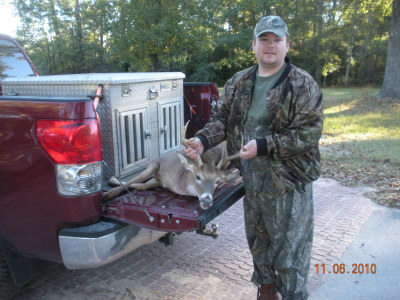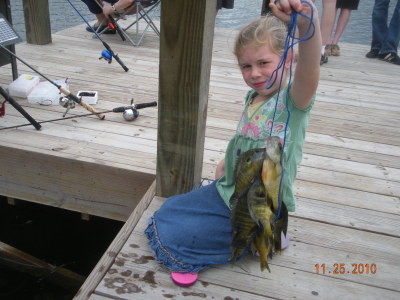 We had 25 for Thanksgiving at the Senior Residence.  Too much food… wonderful visits.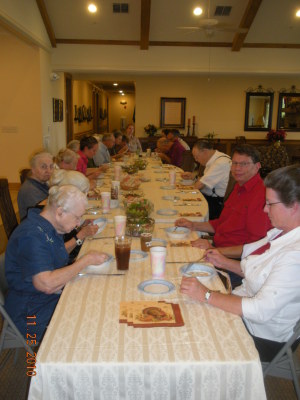 Ken