It's really hot and dry here!  Things remain fairly green but the lakes are low.  The first picture below shows the Sr. Residence from the other side of the lake.  The wild hogs decided to tear up some of the pecan orchard, as you can see from the second picture below.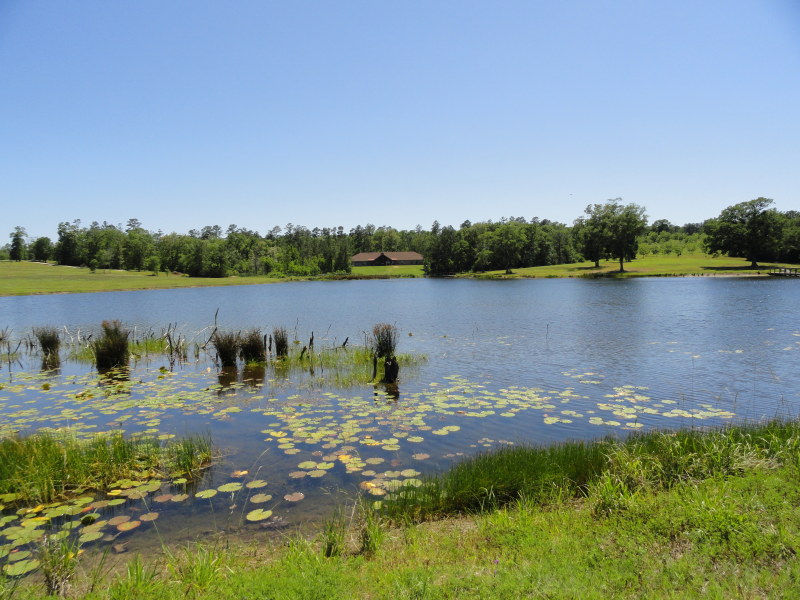 We've continued to have a lot of visitors in May.  Our good friends, Dominique and Mireille Mille, who currently live in New Caledonia (some French islands near New Zealand), were here for a visit.  This first picture shows them with Frank while Leona (my mom) is cutting his hair.  The second shows them with some of the PG residents, staff and volunteers.
The first picture below shows Bill Mahaffy, John and Pam Badertscher, along with PG residents.  The second is a big rabbit that's been hanging out on the east side of the Sr. Residence.  Yes, we get all types of visitors here!
We had a very special visitor, Sharon Clark.  Her maiden name was Sharon Wahlin, a sister to Esther and Kenny.  My wife, Kathy, lived with Sharon in Minneapolis in the mid 70's (along with a few other girls).  Sharon is deaf, so Kathy learned sign language from her.  Then Sharon decided to go to Gallaudet school for the deaf in Washington DC.  Kathy decided to go with her.  I was living around DC at the time… so that's how Kathy and I met.  Kathy had a special birthday, so we had Sharon come down as a surprise for Kathy.  The picture below shows Kathy, Sharon Clark, and Sharon Wahlin (who was married to Kenny until he died).  Sharon Wahlin is in this north Houston field now with Sara Lacock.
There were two get togethers in this area on Memorial day.  One with about 40 at our home on Lake Conroe for those wanting to swim, boat, etc.   Another, also with 40 some, at Pecan Grove, of the Spanish friends from south Houston.  Here are a couple of pictures from the PG get together.  Unfortunately we weren't able to be there, but we did get to sample some of the good food that was left over!
We currently have 8 residents at PG, and have plans for another to join us at the end of the summer.  We have room for 10, if we only have 1 per room.
Ken