Raymond Reece had a bad fall November 1.  We took him to the VA hospital, after which he went to a nursing home in northwest Houston that takes VA residents.  He's receiving PT and OT treatment, but it seems doutful he'll return to PG.  He's content, and has visitors fairly often.  Some tried to take him out of the nursing home for Thanksgiving dinner but he refused.  He likes his routine. The following picture is of Raymond in the nursing home, and Kathy.  The second picture is of the Milles and Elton visiting Elton's brother, Roger Cleveland, in the nursing home.
I've updated the Current and Past Resident tables in the upper right corner of this blog.  Now with Raymond gone we only have 6 residents.  My father, Jack, lives in a house on the farm, and is at the residence a lot.   Here they are:
Back: John Cluver, Elton Cleveland, Jack Newman
Front: Jean Hagemeier, Fern Duncan, Alice Otken and Marybelle Armstrong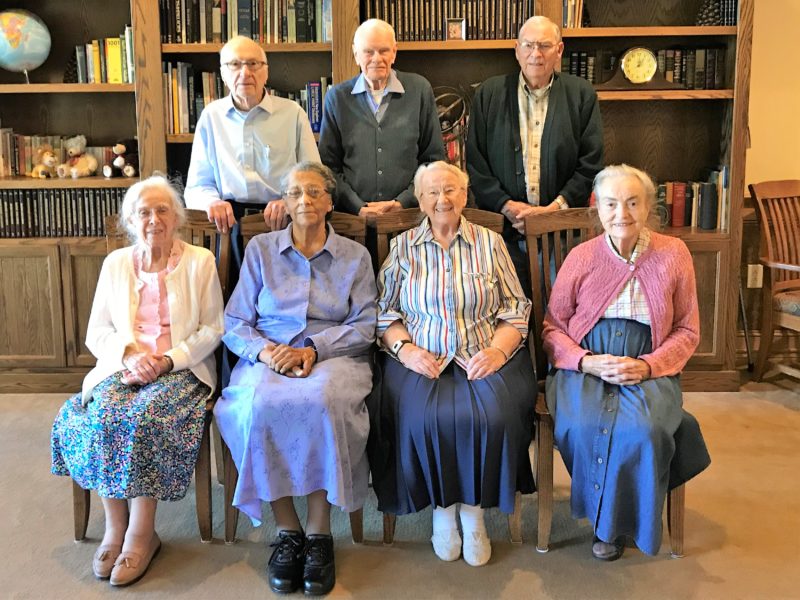 We have 4 staff working in the residence. The first picture is of Jennifer Maddox with her husband and daughter.  The second is of Lety Valdez with her parents who visited from Mexico.  The third picture is of Salena Newman (the manager) with Ashley Kipp who was visiting.  The forth picture is of Robbie Norman.
Wayne and Dawn Overby moved 17 miles to PG in November.  They are living in the house that Samuel and Conchita had been in.  We're sure glad to have them here!  Wayne and Dawn are with Wayne's bother Keith and family, and Alice in the first picture below.  The Overbys are on the right in the second picture taken at Clarence Roachells one Sunday morning.  The Colsons, Milles, Eubanks, Fern and Jack are also in the second picture with Clarence.
Ron and Ann Furrow were here to visit their son Brendan, who is married to our daughter Karla, and their 4 kids.  Also Mai Hoa from Vietnam visited the Milles and others of us who remember her.
Our workers this year are Rachel Potter and Emma Perez.  They were with us for Thanksgiving, also Kenion Bryant from the south Houston field.
Here are some Thanksgiving pictures:
Ken