January saw the start of the new year, and two major birthdays back to back. First was Della's 90th. Most of her family came to celebrate with her, and it was quite the crowd. Angela and Charles Strong came multiple times. Here she is smiling with her cake and balloons, with the Strongs and with her family.

Angela and Charles Strong
Angela and Charles Strong, Mike and Chris Gerstenberger, Jonathan, Kirstin, and Joshua Stewart, Adam Wiggins, Della Mae and Robert Bryant
Shortly after Della's birthday, Gilbert Reese had his 99th Birthday! A few of our residents went to visit him along with a healthy contingent of our Conroe friends. Here he is earlier in the month, then getting freshened up by Mimi, then after. He really cleans up nice! Then with the group of friends celebrating his birthday.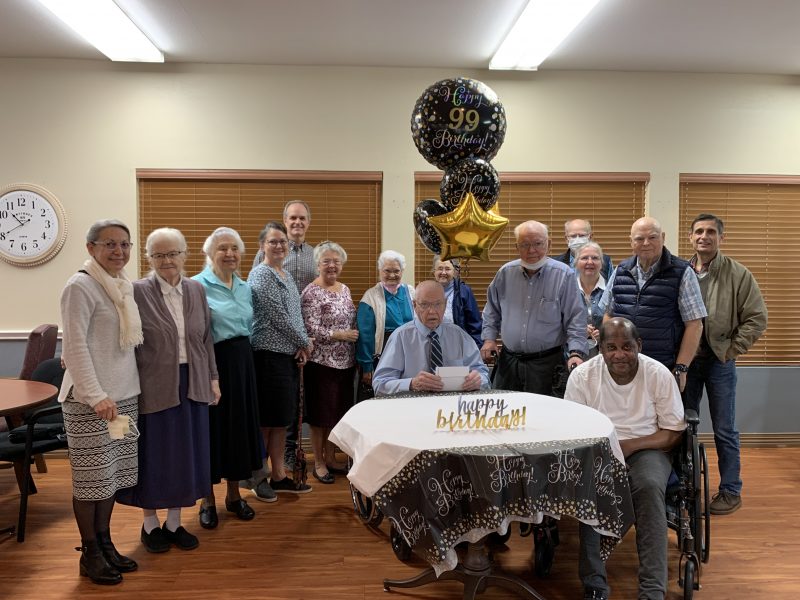 We started off this year feeling the love. We have enjoyed a whole host of visitors. Before the birthdays we had a few days visit from the granddaughter of Louis and Elsie: Candace Sandon with her three children AJ, Miles, and Brynna. Here they are posing in front of the fire place and again helping grandma in the kitchen.
Grandpa Love!

Helping Grandma
Several dear friends came from all around to visit those they remember fondly. Tony and Donna Hottell brought Barbara Jacobs to visit Alice. She and Alice were once companions long ago. Bob and Donna Tangerose also came to visit Louis and Elsie.
Ron Ahrens and his daughter Ronda Jeane came for lunch on his birthday. it just so happened that we were being visited by another friend, Steve Morta (WA) who informed us his birthday was the very next day! Needless to say we were happy to celebrate with them. Here they are together with their birthday cupcakes! David Cleveland was here at the same time visiting his father Elton.
Ron Ahrens and Steve Morta

Ron, Ronda, Steve, Patty, Della, David
Darryl and Goldie Durkee, from North Texas, along with his sister Cindy came to visit Clarence. Clarence was in their field for several years. On the same day Marilynn received a visit from Wisconsinite Val Killam who brought us some delicious treats… Wisconsin honey and apple juice! Kenny was sure to serve cornbread so all could get a taste of the treat. Here they all are posing with their visitors.
The most recent visitors are Gwen Farmer and Eileen Weiss. Gwen fell recently and has come to rest and recover. Eileen is passing through from Colorado on her way to special meetings in Mexico, and stopped to visit Louis and Elsie who she spent a lot of time with when young.
Elsie, Eileen and Louis

Della and Gwen
Elton had a pretty serious fall where he landed on his head! Directly on his ear, which began to bruise and swell, requiring a visit to an ER. Here he is freshly bandaged after the incident. It healed quickly and he's doing fine. David's daughter Sarah visited from Fort Worth. Wayne and Dawn Overby's son Kory and Teresa visited.
interesting fashion head ware

David, Nathan, Sarah, Gideon and Elton
Alice and Esther both have been experiencing tooth trouble. Alice has needed multiple extractions, and they still haven't got her partial to fit. Esther is in a similar situation, needing an extraction of a bad tooth. These ladies are troopers for powering through this!
Marilynn received a good report from the doctor. Her immunotherapy seems to be working for her bladder cancer and since she isn't having side effects it will be continued. Marie also received a good report regarding her brain tumor… she won't need another MRI for 6 more months.
Fern is still quite sleepy when we visit with her. She seems content for the most part, and is happy to receive visitors. Here she is with Marie, Mimi and Kathy, then happy with flowers the Lairds sent.
We have had some time for fun at PG as well. The ladies held another tea party in Marilynn's room, while the boys enjoyed the piano together. Finally Joyce also tried her hand at playing the piano for a while.
Tea Time!
Boys Louis (99) and Elton (105)
Marie still likes to cook! This time she tried a twist on a British classic: Cheeseburger Wellington. Esther felt inspired and decided to make her famous pavlova as well.
Ken's sister Ronda and Mike Rosamond were here this weekend to visit Jack. He continues down but has a good appetite and is awake and alert some of the time. Here Ronda is reading him a chapter. Arthur Clites also visited Elton and Esther this weekend.
Thank you all for your interest and support throughout the years! It means so much that you care so deeply for the residents. We wish everyone a Happy 2023!
Kenny and Ken